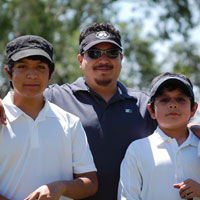 For 14 years, the Caliente Classic golf tournament has benefited children with bleeding disorders in New Mexico. In partnership with our title sponsor, DMC Logistics, Sangre de Oro raises funds to sponsor a week-long summer camp for children with bleeding disorders and their siblings. Each summer, campers age 7-17 learn to treat their chronic medical conditions and enjoy typical camp activities such as high ropes course, archery, crafts, rock climbing, and water slides.
This life-changing camp experience is made possible through our committed sponsors, golfers, and volunteers at the Caliente Classic golf tournament. Thank you for continuing to support Camp Valiente where we make magic happen for children with bleeding disorders.
Thanks to generous participation in the 14th Annual Caliente Classic on August 5, 2017, Sangre de Oro raised enough funds to cover the costs of 2018 Camp Sangre Valiente while nearly doubling the number of children who can attend. We are happy to announce that we were success in raising  $85,091.00
To register or volunteer for 2018 15th Annual Caliente Classic, please contact Rose Lopez at 505.400.7081. We look forward to seeing you
We are supported by local companies such as DMC Logistics, Aerolynx Air Charter, and AA Auto & Air Conditioning . Event host and title sponsor DMC Logistics, and its President & CEO Steve Griego, were also recognized by the National Hemophilia Foundation as Philanthropist of the Year for the third consecutive year. The National Hemophilia Foundation recognized DMC Logistics and Griego in part for contributions and fund raising efforts associated with the foundation's local chapter, SDO.
Arroyo del Oso Golf Course
Arroyo del Oso opened for play in October of 1965. The course is located in the Bear Canyon Arroyo from which the course gets its name, and which makes for interesting topography. While it is not a tough course, the large greens, rolling fairways, three water-hole obstacles, and sand traps make it best suited for the intermediate to advanced player with 6,545 yards par 72 for men, and 6,015 yards par 73 for women.